An FP&A and budgeting tool that leverages a native Excel interface
For many businesses today, budgeting, planning and forecasting are challenging processes involving countless outdated and manual processes. Vena is an FP&A ecosystem powered by certified planners that can change the trajectory of your organisation by freeing up your finance team to drive faster, smarter, more data-driven strategic decisions.
Financial Planning & Analysis
Gain an all-in-one solution for your organisation with Vena's smart FP&A software. Native to Microsoft Excel's interface, Vena offers a simple user experience, without compromising on results. Transform your business with customisable dashboards and engaging reports.
Read more
Complete integration of your business data: Connect and integrate all of your business' data sources, from financial, non-financial, internal and non-external – allowing for higher work collaboration within your team. Make smart, data-driven decisions for your company.
FP&A software with a native Excel interface: Continue using the tool you know, Microsoft Excel, while adding the advantage of a centralised database, process automation and the ability to aggregate your data.
Customisable, engaging dashboards and reporting: Vena helps you create stories from your statistics. Utilise ad-hoc reporting tools, accessible from anywhere and any device.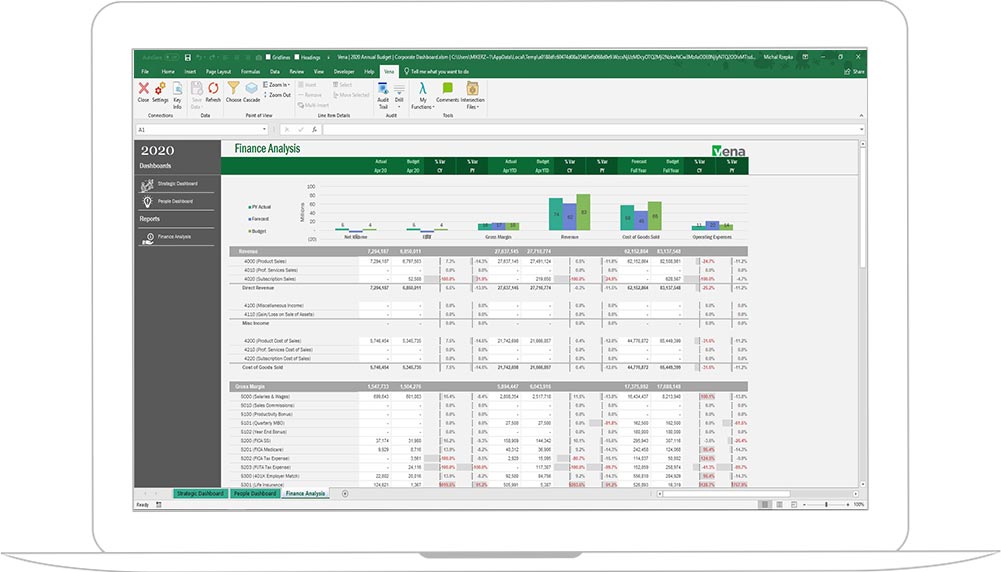 Agile Planning
Stay on top of the game with advanced forecasting and analysis tools. Keep your organisation change-ready with Vena's real-time reporting capabilities, giving you the information you need to make strategic decisions.
Read more
Vena Agile Planning provides
Gain direction with your data: Gain a comprehensive view of your organisation's past and present, so that you can advance forward.
Conduct "what-if" scenario analysis with ease: With Vena, you can quickly test your assumptions with advanced scenario modeling, so you can visualise how changes will affect your revenue and expenses.
Be change-ready with real-time forecasts: Leave static forecasts in the past with real-time forecasting capabilities. Vena gives your organisation insight into current market trends, and economic conditions that can interfere with your business goals.
Explore impacts of organisational decisions on your cash flow: Vena makes it simple to understand how your business decisions will impact your cash flow, regardless of whether you're planning for growth or managing through unprecedented times.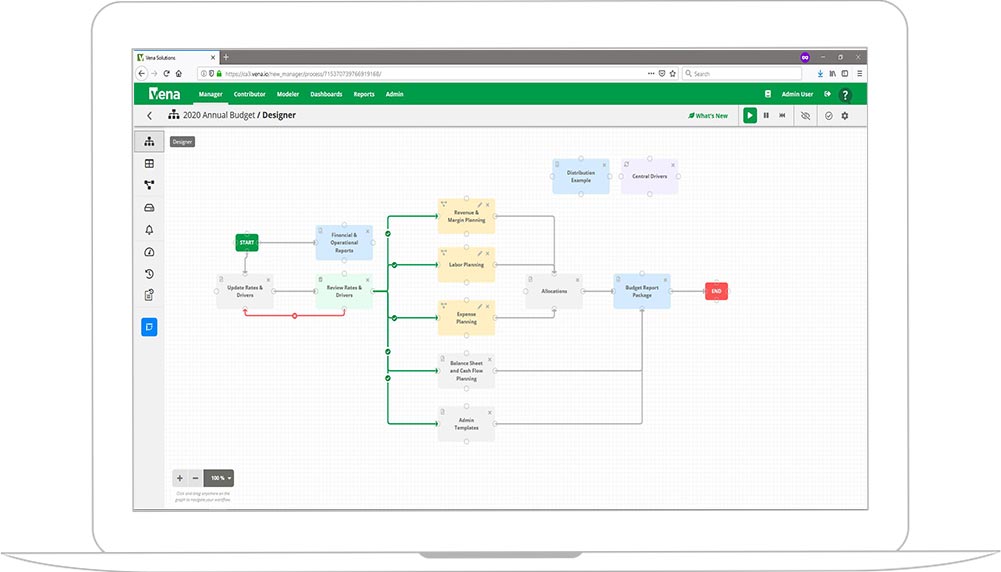 Integrated Business Planning
WIth Vena's Integrated Business Planning, your organisation's data becomes more powerful than ever. Eradicate silos and connect all of your GL, ERP and CRM data into Excel – allowing for more accurate and efficient reporting.
Read more
Vena Integrated Business Planning provides
Let your data shape your path: Integrate your business planning ecosystem by allowing Vena to break down your planning silos, bringing together operational and financial data. Utilise profitability analysis tools to find correlations in both data sets – enabling you to build a direction from your data.
Be future forward: Vena connects Excel to your existing GL, ERP, CRM and other revenue-related system data – integrating all of your business planning processes into one platform. Conduct powerful analyses without having to leave Excel.
Track real-time growth: Easily identify discrepencies between forecasted and actual numbers, so that you can adapt your revenue plans with the most current data set. Vena's corporate performance management software also gives you the tools to analyse variance and profitability, allowing you to plan your organisation's growth with real-time, reliable data.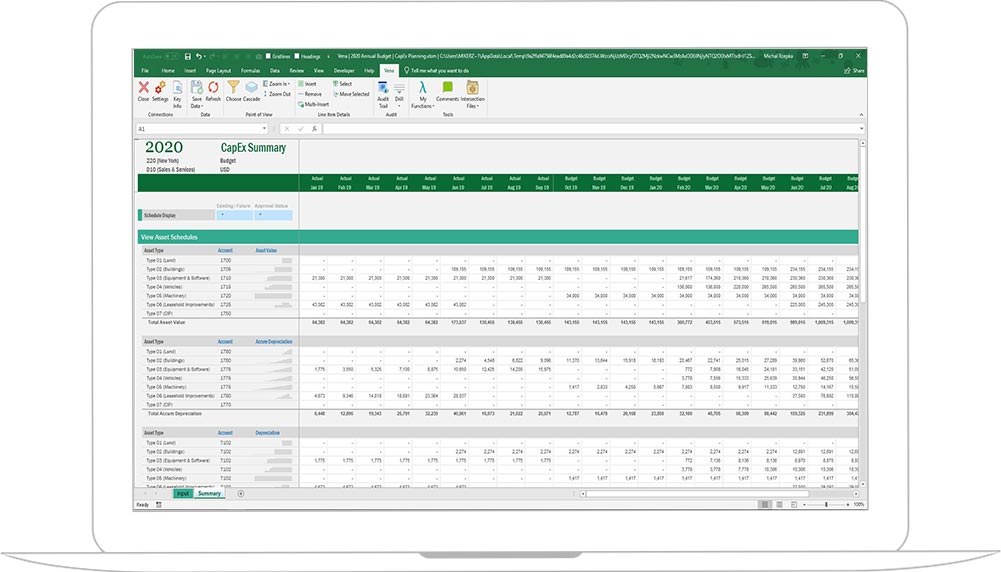 Financial Close Management
Take advantage of a centralised database and close your books with complete confidence. Let Vena do the hard work, so that your people can use their time more effectively – instead of dealing with manual administrative processes.
Read more
Vena Financial Close Management provides
Month-end closing with confidence: Reduce the length of time it takes to close your books, while confidently knowing that you have a reliable and flexible system in place – all within the familiarity of Microsoft Excel.
Gain your time back: Automate time consuming processes with Vena, such as data collection, account reconciliation and intercompany transactions. Allow your new system to manage your complex, multi-entity processes, automatically putting your entries in the right place – giving you time back in the day to focus on the important tasks.
A seamless shift: Vena gives you more control, security and transparency than ever before, while leveraging Excel – allowing your financial team to work within the system they already know.
Focus on your business: With a powerful workflow engine, it is now easier than ever for you to shape your month-end close process, distribute tasks and switch it on autopilot. Vena alerts you when tasks are ready to be reviewed, and gives you a complete view across changes and status tracking.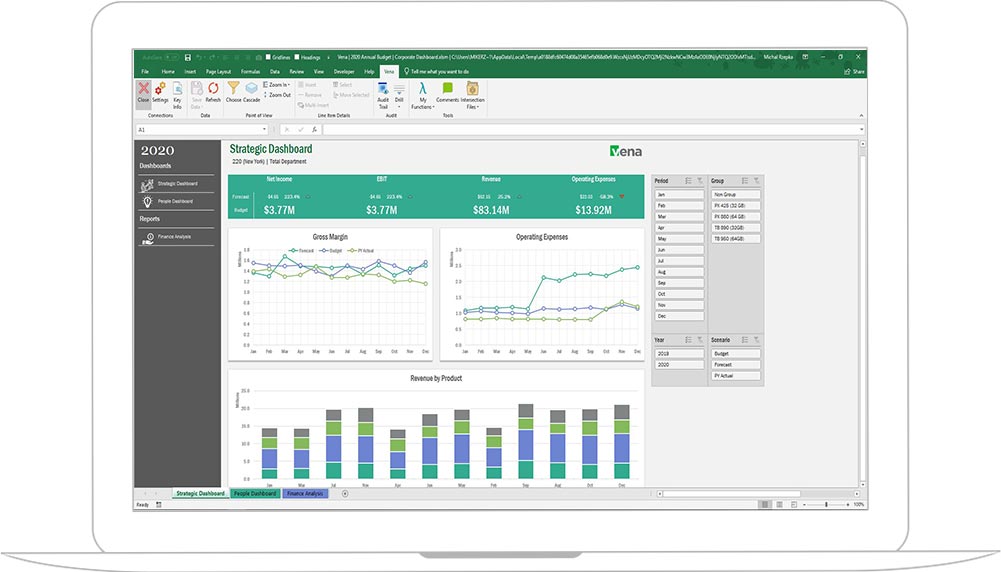 Financial Reporting
Take advantage of Vena's smart financial reporting tools, within the Excel interface. Automate financial reporting processes for accurate analyses, and make data-driven business decisions.
Read more
Vena Financial Reporting provides
Financial reporting and analysis with Power BI: Vena integrates with Microsoft Power BI, allowing you to build a story out of your overlooked data. Create dynamic and interactive reports directly within Excel. View real-time fiancial data from any device, on the go.
Allow financial planning to lead your business: Vena automates your financial reporting process, so that you can easily analyse data for smart, data-driven business decisions. Explore customer behaviour, run high-level reports and look into important revenue drivers, such as customer acquisition cost (CAC), cash flow and customer lifetime value (CLV).
Let your data answer your business questions: Enable collaboration between departments and use company-wide data to influence your busines decisions. Store real-time data from all facets of your organisation, from finance, sales, marketing and more, into one unified database. Discover real-time analytics without having to search through separate systems.
Regulatory Reporting & Compliance
Save on time and remove challenging, lengthy processes by utilising Vena's toosl for regulatory reporting and compliance. Comfortably meet deadlines without compromising on accuracy.
Read more
Vena Regulatory Reporting provides
A single point of truth: Vena consolidates your financial, HR and operational data into one centralised location – cutting down your team's time in chasing and hunting for numbers. See real-time updates in your Excel workbook and create current regulatory reports with just a few simple clicks.
Speed up reporting by using the tool you know: Vena is built to integrate with Excel, saving you time and simplifying your regulatory compliance processes. Continue using your report templates and formulas, with the advantages of assigning tasks to your team and issuing follow-up notifications to keep everyone on track. Automatically extract data, receive alerts when a deadline is approaching and add supporting documents to your reports with ease.
Keep your data secure: Remove the risk of unauthorised users editing and sharing your data. With customised roles and permissions, Vena puts you in charge of enforcing strict controls for individual users and groups.